I Beg To Differ
Click here to purchase the book from ivpress.com
Click here to purchase the book from amazon.com
"A number of years ago I determined two very important things about marriage: we are naturally very good at initiating conflict, and we are naturally very bad at resolving conflict. How you resolve conflict in your marriage, family and relationships will determine the depth of intimacy you experience in these relationships. I Beg to Differ is '911 to the rescue' for relationships. This may be the most important book you read this year."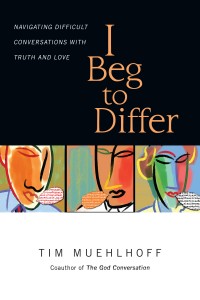 Dennis Rainey, host, FamilyLife Today, founder and president, FamilyLife Ministries
"Over the years, Tim Muehlhoff's thoughts and guidance on personal communication have helped me grow as a person and as a leader. In I Beg to Differ, he once again provides me with strategies I can immediately apply to what I do every day, in business and in my personal life."
Jon Basalone, executive vice president, marketing and merchandising, Trader Joe's Company
"This is a deeply wise book. In it, Tim Muehlhoff offers hope, but not just hope; he also provides practical tools to help us communicate about differences in ways that foster growth more than division. Illustrating the book are powerful examples that are illuminated by Muehlhoff's seamless blending of insights from communication research and lessons from the Scriptures. The result is a book that resonates powerfully with our lives and invites us to become better versions of ourselves."
Julia T. Wood, Lineberger Distinguished Professor of Humanities, Emerita, University of North Carolina at Chapel Hill
"Over the last twenty years or so, we have witnessed an explosion of important works in Christian apologetics. But what have been missing are books teaching us how to communicate our ideas in effective ways with those who have a different viewpoint. I Beg to Differ meets this need in a wonderful way. Muehlhoff brings together an expertise in communication, a deep integration of biblical teaching and decades of ministry experience to produce a book that is highly practical and theoretically solid. This is a must read for anyone who wants to learn how to interact with people of different perspectives."
J. P. Moreland, Distinguished Professor of Philosophy, Biola University, and coauthor of The God Conversation
"This book can pull your marriage out of the communication ditch. It's practical, authentic and full of helpful insight. It can help you move your marriage to a whole new level."
Bob Lepine, cohost, FamilyLife Today
"For more than twenty years, I have benefited both personally and professionally from Tim's wisdom and coaching. He is a masterful communicator, and the principals contained in his most recent book are stunning. I can't say that I am looking forward to the next difficult conversation that I will have to have with a family member or friend, but I am confident that the timeless and proven principles contained in I Beg to Differ will help me communicate with integrity and clarity."
Chris Willard, director of generosity initiatives and premium service, Leadership Network, and coauthor of Contagious Generosity
"I head up a graduate program in Christian apologetics and I can't think of a better book to read if you want to engage others with the 'humility and respect' that the apostle writes about in 1 Peter 3:15. But understand, this book is for everybody: evangelists, pastors, spouses, friends, bosses, employees—anyone who needs to communicate with charity, confidence and clarity. Tim Muehlhoff has written yet another incredibly helpful book that really needs to be read far and wide."
Craig J. Hazen, founder and director of the Christian Apologetics Program at Biola University and author of Five Sacred Crossings
"One doesn't have to look far to find myriad examples of incivility—from political commentators who cut off and ridicule their guests to boardrooms to church and faculty meetings to the dinner table. I can think of no one better than Tim Muehlhoff to provide insight and practical wisdom on how to navigate difficult conversations with grace and truth. Tim doesn't just apply his considerable scholarly expertise and biblical knowledge to the subject; he lives what he writes."
Carol Taylor, president, Evangel University
"Having worked in college ministry for over twenty years, we are always looking for resources to help people engage those with differing views on campus. With Tim Muehlhoff's help, even difficult conversations can foster understanding instead of driving a wedge."
Bob and Jill Fuhs, Cru staff, Los Angeles and Orange County
Introduction
Manila folders sat in front of me.
It was difficult not to stare at them. I was meeting with a couple experiencing conflict. I had asked them to come prepared to identify and discuss troublesome topics, but nothing prepared me for what they brought. Vicki and Thomas arrived in separate cars and both walked into the restaurant carrying massive manila folders. Each of them had over the years separately compiled evidence to prove the other wrong. As each one described an issue, he or she would reach into a folder and produce supporting facts. The folders were stuffed with shopping receipts, phone records, photos, business vouchers, hastily scribbled notes and even transcripts of secretly recorded conversations.
I sat stunned. During our three-hour conversation I often thought of the proverb that states, "An offended brother is more unyielding than a fortified city" (Prov 18:19). Over the years this couple had grown discouraged in trying to resolve issues and now were only interested in fortifying entrenched positions.
Can you relate?
While few of us have gone so far as to fill folders with evidence against a person, we all can understand the frustration of having communication break down. All of us can think of conversations that ended badly. Heading in we hoped for the best but feared the worst—only to have the worst happen. Discussing this particular topic  with  this  person  sparked  defensiveness,  anger  and  raised voices. The result? A breach occurred and an argument broke out. "Starting a quarrel," suggests an ancient writer, "is like breaching a dam" (Prov 17:14)—participants are swept away by powerful emotions. In the wake of the argument we are left with nagging questions: How can I remain faithful to my convictions but communicate in a way that produces dialogue, not uncivil debate? How can I balance truth and love when discussing difficult issues with people who disagree with me? And what if the person I'm struggling with is a spouse, family member, coworker or neighbor? The proverb admonishes me to drop the matter, not the relationship.
There is hope.
The same ancient writers who advise us to avoid quarrels also tell us that when our communication is pleasing to God, it's possible to live at peace even with our staunchest enemies (Prov 16:7). The realism of this verse is striking—people may not agree with us, but productive conversations marked by civility and peace are still possible. If civil communication can work with our enemies, then how much more with those we care about?
I Beg to Differ is more than a book about conflict; it is a book about communication between those who differ on significant points. Specifically, this book is for two types of individuals. First, it is for those who have attempted to discuss an issue with a friend, family member or coworker only to have the conversation deteriorate into a contentious exchange. The conversation may have left you shaken and gun-shy about bringing up the issue again. Better to live in silence or simmering anger than to revisit the topic and risk a similar result. Second, there are those who feel the need to discuss a topic with a person but envision the conversation going poorly. You desire to share Christ with a neighbor, discuss the budget with a spouse, or challenge a child's attitude, but before the first word is uttered you have psyched yourself out. How will you even begin to address the issue? Unsure, you avoid the topic.
I Beg to Differ introduces readers to a four-part communication strategy for the most difficult of conversations—those we wish to revisit and those we have yet to broach. The strategy centers on four essential questions that an individual must ask during an encounter with someone from a markedly different perspective. Gleaned from communication theory and the wisdom of the Scriptures, it values dialogue over debate, acknowledging and entering into a person's story, cultivating common ground, acknowledging doubts, and tailoring our communication to a particular person. These principles will not only work in face-to-face encounters but with the uncivil and often ugly exchanges that happen on Facebook or Twitter.
How will this book help?
I Beg to Differ helps you prepare to enter difficult conversations by reclaiming the power of words (section one), learning to organize a conversation through an original four-part strategy (section two) and observing the application of this strategy to real life situations (section three). The following features make the book useful and easy to apply:
Each chapter introduces key principles found in communication theory such as cognitive complexity, the rule of reciprocation, constitutive rules, fundamental attribution error and agenda anxiety. Each of these ideas is presented in an accessible style.
I Beg to Differ is filled with illustrations not only from my own experience of speaking at marriage conferences, evangelism seminars, apologetic conferences and in the classroom, but illustrations from pop culture, leading communication experts and theologians.
At the close of each chapter summary points help you remember key principles and questions from the chapter.
The core of the book (section two) centers on an original four- step communication strategy created during my graduate studies at the University of North Carolina at Chapel Hill while I was seeking to understand and respond to diverse and sometimes disturbing views.
The final section includes three scenarios in which the principles of the book are applied to real life situations. How would a spouse talk about budget concerns without provoking the other? Can a Christian open a civil and productive dialogue with a follower of a different religious tradition? Without provoking her teenage son, how can a mother address concerns that he is too connected to social media and video games and not enough to the family? Each scenario takes the principles and theory of the book and shows readers how to apply them.
 Communicating with Integrity
Integrity, argues Bible expositor John Stott, is an indispensable part of learning to engage others. "Dialogue is a serious conversation in which we are prepared to listen and learn as well as to speak and teach. It is therefore an exercise in integrity."  Stott's observation prompts introspection. What type of communicator are we? As we engage in dialogue with others are we interested only in sharing our thoughts, or do we want to learn from others? Are we willing to listen as much as we speak? Do our convictions make us blind to areas of agreement with others? Can we honestly say we are open to compromise with those we care about, or is it only about winning an argument?
In the following pages I'll address those questions as we consider the delicate balance of listening, finding common ground with others, and responding in truth, love and integrity. We start with considering how our words influence others and ourselves.